Hey followers!    Sorry for the downtime, however internet on the river is sketchy at best.     I have a few videos to share but due to bandwith in most places,  it'll have to wait.   So I thought I'd ketchup up everybody to the goings on down stream.
Last Thursday at 3pm the crew was able to ship out from Dubuque (MM 580).
With the new props, shafts and struts the word smooth never felt so good.     Because of the later day start,   Rob, Jan, Sue and I wanted to get at least 4 hours down stream which got us to Clinton at MM 519 (a 61 mile day).    A nice marina with shore restaurant.    A 2-man band was playing on the deck and music permeated the harbor wrapping up at 10pm.     Mayflies started to hang around and we thought another hatch was eminent,  so we turned down the lights and called it night.    Oh,  and the boat turned over 1000 engine hours!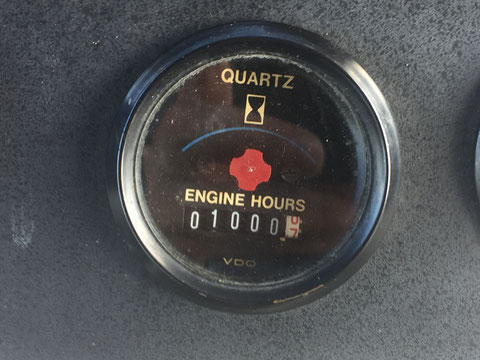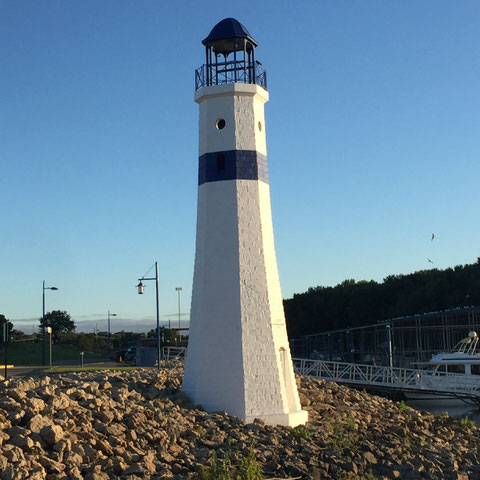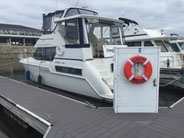 Friday-We got up with the sun.   Saw a beautiful sun rise on the back deck of the boat and decided to find in town coffee!    Lots of people walking dogs on the riverwalk next to the marina, made it easy to find the local "McDonalds" for some JOE.     Walking thru town found "Emerald City" as the town hall has been painted green.     We headed back to the boat via the river walk and came upon a really cool garden.     A Chalk garden which begged Sue to created a work on the sidewalk canvas!    
We got the Gas dock early to fuel up, and pump out.     Met yet another lovely person named "Jean"  who works the gas dock and also is a certified massage therapist.      While we filled up, my back was worked over and boat repair tensions of the past few days released!     With full tanks and a mostly rested crew,  we pushed out to head once again downstream.